Services
Design
Our technical team are highly skilled in the selection of materials, welding metallurgy, pressure component strength calculations, structural statics, 2D and 3D modelling and preparation of construction designs. We use such tools as PDMS, TEKLA STRUCTURE, AUTOCAD, INVENTOR, AUTOPIPE, ANSYS.
Manufacture
From the first days of our operation, we have been a manufacturing plant. We produce special steel structures, boiler structures, pressure components, while offering product modularisation and spare parts 24/7, as well as:
membrane walls with or without overlay welding,
coil components and bent elements with or without overlay welding,
pressure tanks and piping,
anti-corrosion and anti-erosion protection,
air treatment systems.
Overlay welding
Our workshop overlay line consists of the sets for 360° spiral cladding of tubes, overlay welding of membrane panel walls and special, mechanized and manual cladding depending on the type of application. The chemical composition, thickness and the mixing level of the applied coating depend on many factors, however, due to the use of modern welding processes, manufacturing techniques and a comprehensive approach, individual selection of welding and surfacing parameters,
it is possible to obtain:
Smooth face surface
For nickel-based coatings with a thickness of <2mm and Fe <5%.
For hardening coatings a smooth transition to the base material
A broad range of material combinations between base material and a protective coating, e.g. austenite/nickel, martensite/austenite, bainite/ austenite, etc. depending on the working conditions and other material combinations as agreed at the development stage or as indicated by the End User or the Client.
Spiral overlay welding
Technical capabilities:
Several tubes cladding 360°stations,
MIG welding method (Pulse, Cold Arc, CMT)
Diameter range from Ø26.9mm to Ø88.9mm
Production criteria:
Coatings made in accordance with the Vd-TUV 1166 and EN ISO 15614-7 regulations
Guaranteed thickness of the weld deposits ≥ 1.0 mm
Overlay welding of membrane panel walls
Our welding machines used GMAW CMT cladding method and allows an individual parameter setting to form desired geometry of the product and meet acceptance criteria (required amount of the key elements and required mixture with the substrate/base material). Technological capabilities of the workshop and dimensions of membrane panel walls:
Cladding length 12 000 mm
Cladding width 1 600 mm
Coatings made in accordance with Vd-TŰV 1166 and PN-EN ISO 15614-7 regulations
Mechanical Machining on 7 axes Plate Boring and Milling and Drilling Machine, WRD 13 CNC horizontal
WRD 13 is particularly suitable for machining box and board type workpieces and complicated spatial shapes from steel and other machinable materials such as: frames, iron casts, large scale machinery elements, welded constructions etc. High quality of the machine and the dimensions of the tables (floor table 5000x2000 and rotary table 2000x25000) guarantees precise machining of elements with large dimensions and weight (floor table q=10T/m2 and rotary table q=16t). WRD 13 is equipped sliding working spindle with 130mm diameter.
The new machines allows us to deliver the elements of: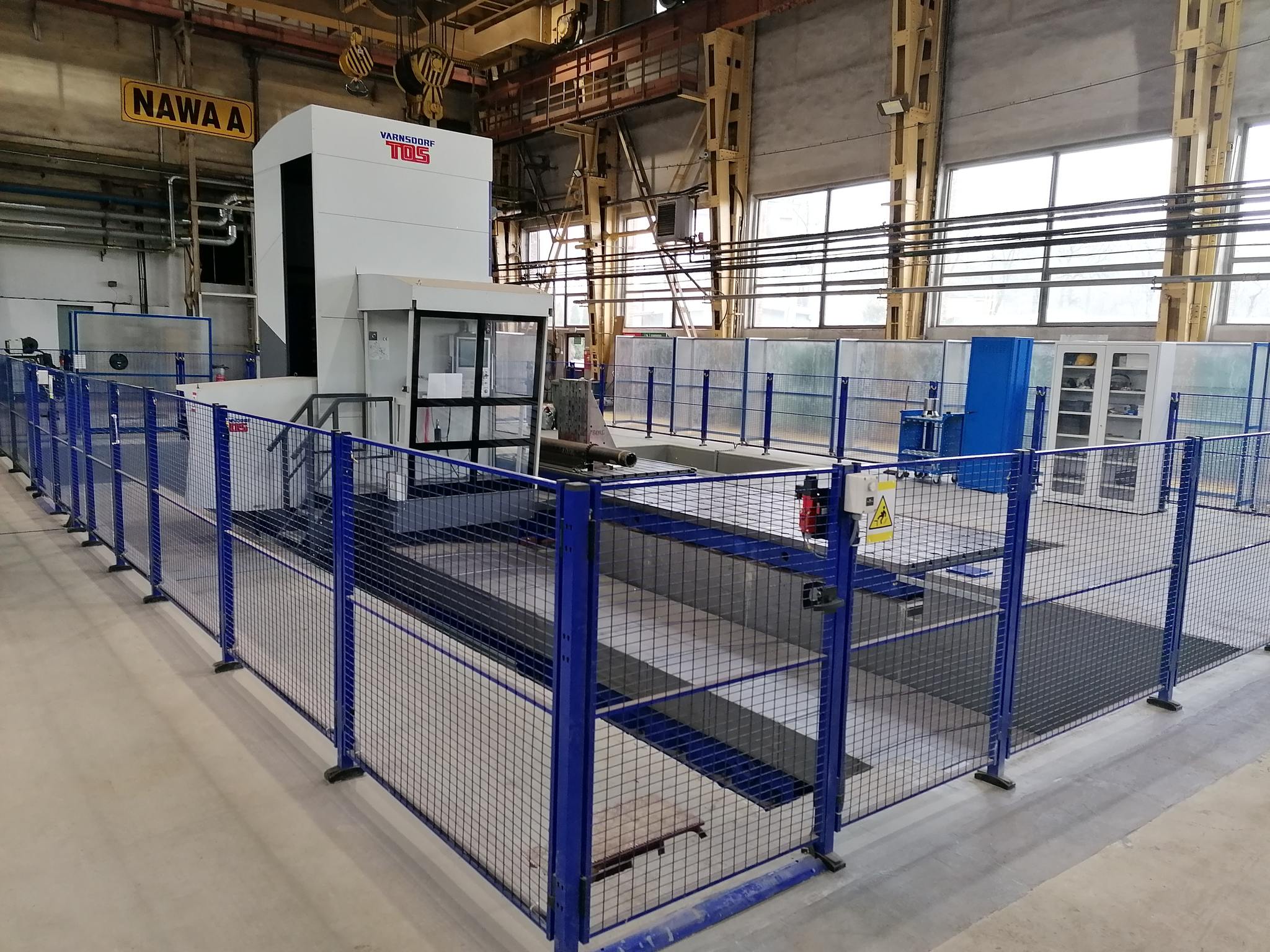 precise coordinate drilling
boring holes and sockets
plane milling
threading
turning
scribing
checking the dimensions of workpieces after machining
Parameters of WRD 13 CNC

| | |
| --- | --- |
| Work spindle diameter: | 130mm |
| Spindle taper: | ISO 50 |
| Column longitudinal travel (X axis) | 8000mm |
| Headstock vertical travel (Y axis) | 2500mm |
| RAM stroke (Z axis) | 700mm |
| Spindle stroke (W axis) | 650mm |
| Rotary table longitudinal stroke (V axis) | 1400mm |
| Rotary table (B axis) | 360° |
| Table dimension | 5000x2000mm, q=10T/m2 |
| Rotary table dimension | 2000 x 2500mm, q=16T |
| Positioning accuracy | 0,001mm and 0,001° |
| Control system HEIDENHAIN TNC 640: | |
| Touch probe | |
| The possibility of interpolation boring | |
Diagnostics, 24/7 technical service, fitting
We carry out assembly, repair and modernisation services on plants and industrial systems. We have experienced, competent and mobile teams who work in Poland and abroad, removing failures 24/7, providing heavy industrial machinery assembly services and comprehensive investment project implementation. Our company has broad experience in welding high-grade steels, such as T/P23, T/P24, T/P91, T/P92, AUSTENITIC, DUPLEX.
Shipments
As part of our all-round offering, we provide comprehensive, cross-industry services and shipments complete with accessories, insulation, brickwork, piping, wiring and chemical etching and treatment. The wide range of skills possessed by our team combined with a broad, constant and trusted network of suppliers (including foundries and casting plants) allow us to guarantee timeliness, safety and high quality of our deliveries.
Technical assistance
We offer comprehensive supervision and assistance during design, assembly, welding works, industrial plant and faculties service life assessments, failure analysis, development of welding and related technologies, plastic processing (hot and cold), expert opinions on material properties, material selection, welding metallurgy. In just the last few years our staff have assisted with projects implemented in Poland and abroad, including Germany, France, Finland, Hungary, South Korea, Thailand, Vietnam, Chile and the US.
Laboratory
Our laboratory is accredited according to ISO/IEC 17025:2005 and provides services in the scope of non-destructive and destructive testing carried out by highly-qualified technical staff with I, II, III level qualifications according to EN473, ISO9712, SNT-TC-1A. Apart from traditional non-destructive testing methods and techniques (RT, UT, PAUT, PT, MT, VT, PMI, HV, UTM), our laboratory provides other services dedicated to our customers' property, including highly specialised ferrite testing, micrographic replica testing and micrographics with electron microscope, as well as endoscopy.
We have machinery resources for destructive testing, including intergranular corrosion testing.
Find out more about our capabilities and other services offered by the company from the presentations available in the DOWNLOADS tab. In case of any questions, we will be happy to provide more detailed explanations.